PLUMBING!  PIPES!  FITTINGS!

Although DIY seems to be part of the Aquarist DNA, when faced with plumbing – all the letters, numbers, standards, and colours, you would be forgiven for picking up the phone to call your local plumber.
The different standards of pipes and fittings as well as codes, and diameters take some understanding.  So before you head down to your local hardware shop, things you need to consider are:-
What the purpose of the plumbing will be?
The thickness of the walls of the piping and fittings – rigidity, pressure?
The volume of water you are wanting to move
What the plumbing is manufactured from – is it suitable for aquariums?
What is it connecting to in your aquarium?
Definitions/Glossary:-
PVC – Polyvinyl Chloride (C2H3Cl)n
uPVC – unplasticized PVC
a more rigid PVC
in New Zealand comes in pressure ratings (PN) from PN 3,6,9,12,15,18.
Standards:- These can help understand the information we are bombarded with when we Google!
Series 800

A dimensional standard
Pressure pipe with thicker walls, usually PN12 in New Zealand

Schedule 40

White fittings
Thinner walled pipes therefore larger internal diameter
Compatible with Series 1 pipe
Available from USA

Schedule 80

Grey fittings
Thicker walled pipes therefore smaller internal diameter
Higher temperature & pressure ratings, usually PN18 in New Zealand
Stronger pipe
Compatible with Series 1 pipe
Available from USA

DWV

Drain, Waste and Vent
Lower pressure
Generally used in gravity driven systems

DIN

Deutsches Institut für Normung or (German institute for Standardization)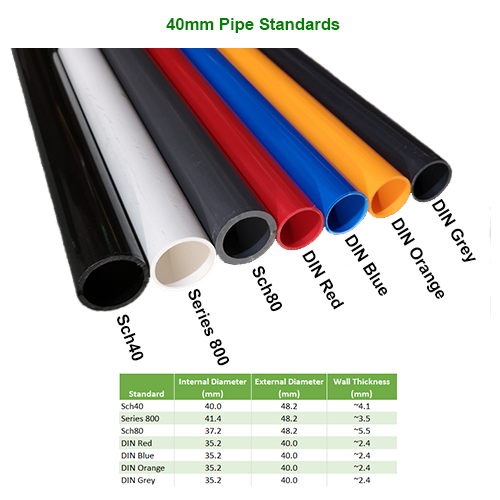 The unfortunate thing is that all plumbing parts are not created equal so fittings of these "standards" are NOT interchangeable – If you have a Series 1 pipe, and DIN fittings these are NOT compatible.
The new to Aquarays, range of Sanking plumbing is an end-to-end plumbing solution adhering to the DIN standard.  We currently stock 15mm, 20mm, 25mm, 32mm and 40mm pipes and fittings which include true union ball valves, red, orange, blue and grey 1m pipe lengths as well as elbows, tees, y-tees, and unions just to name a few.